Aerobie AeroPress. Yup, you want it.
Startups are all about changing the world and each tries to do it in its own way. But even though no two startups are the same, they do share some unescapable similarities.
For example, if I was to walk blindfolded into any startup's office and grab a Nerf gun lying on the top of a random Ikea desk, I'd probably hit an Apple product within five seconds of pulling the trigger. And, if I were to walk into a random startup's kitchen and rummage through the drawers, I'd sooner or later find at least one Aerobie AeroPress–the cult coffee maker "press".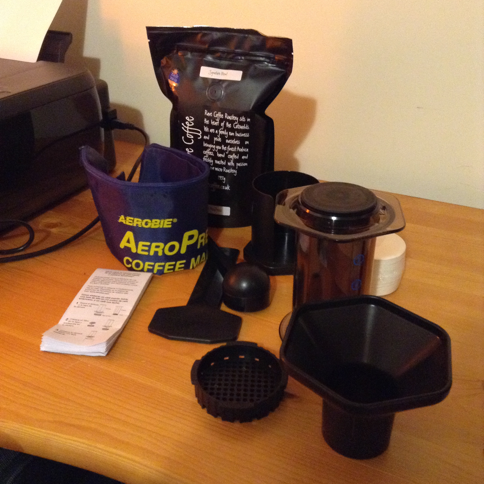 I have been resisting the AeroPress craze for quite a while, because I didn't want to be just another coffee hipster. Unfortunately, someone close to me found out that I sometimes drink those horrible 3-in-1s (coffee, sugar, milk) and gave an ultimatum, "start drinking proper coffee or else…" Oh, well… To Amazon off I click…
Conveniently, the mighty A had an AeroPress gift set for sale; it included the AeroPress itself and and a small bag (227g) of a Rave Coffee's Signature Blend. Following the tried and tested model of making money on the razors, the price of the gift set was lower than the price of the AeroPress and the same bag of coffee bought separately.
It only took Royal Mail a couple of days to deliver my order during the Christmas/New Year's mail pileup, not a mean feat considering the time of year and the horrible weather conditions. The box looked a bit too big for what it was supposed to protect, but I cannot blame the seller for wanting to make sure I receive my order in pristine condition. Inside, covered in a bale of bubble wrap I found the cardboard AeroPress gift box protecting another cardboard box protecting the AeroPress itself.
Again, the box that housed the AeroPress seemed a little too big for its contents, but all became clear as I started unpacking it. The Aerobie people thought about everything. Apart from the AeroPress itself, the box houses a stirrer, a measuring spoon, a funnel, 350 paper filters, and a stand for those filters. And a fugly blue tote bag with the yellow AeroPress logo. Oh, and the manual.
This is clever. When you buy a gift set, you get everything a newly born coffee hipster might need to make his or her first cup of proper coffee. This is how it should be done. After unpacking the whole thing I grabed my favorite cup, put the paper filter inside the holder, attached the filter holder to the transparent tube and put two spoons of the Signature Blend inside it. Next, I boiled some water, poured it into my new AeroPress, stirred coffee for 10 seconds then pressed for 20 seconds. That's it, I added some hot water to the freshly presses coffe and that's how I had my first Americano ready to drink in under a minute.
My first AeroPress Americano tasted rather well, partially due to the coffee brewing process and partially due to the tasty Signature Blend prepared by Rave Coffee. That particular blend won the Taste of the West 2011 bronze medal. And rightly so, because I haven't touched any other coffee for a week. I cannot claim that this way of making coffee results in better coffee than the one made by a true barrista, which I am not, but that is not a fair comparison, because when you go to a coffee shop you pay not only for the coffee itself but also for the pleasure of being there, which you cannot compare with making coffee in the office or at home as those environments are just different.
After a week of using my AeroPress I noticed that it is very easy to use and very easy to clean, an important thing to consider for a lazy guy like me. I have also learned to appreciate the funnel that makes pressing coffee straight into my thermal cup so much easier. The filter stand I could loose and not notice and the fugly blue tote bag went into the bin within seconds of opening the AeropPress box, but these are non-issues.
The guys and gals at Aerobie deserve praise for desiging a complete package that gives the buyer everything he or she needs to make excellent coffee. Similarly, Rave Coffee has to be praised for making it even better and creating a competitively priced gift box that leads the customer straing to their own website. A smart move and great help for a coffee fan. While you're there, notice that one of the options listed on that site is coffee ground for AeroPress. Clever!
Summing up, I recommend AeroPress to everyone who wants to drink better coffee, not only because that's how developers make coffee at hip startups, but simply because it tastes better and is healthier that the instant sludge.